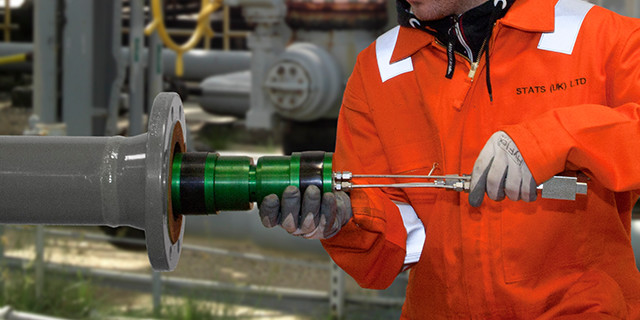 Maximising Shutdown Efficiency to Minimise Risk and Downtime
Hot-work barriers, localised hydrostatic testing and mechanical pipe connectors to enhance shutdown maintenance
Abstract
By far the most challenging activity for any facility is the planning and execution of shutdown maintenance activities and repairs. With the safety of personnel and asset integrity being the primary consideration for any task, the execution of all repair work demands the use of safe, reliable and efficient equipment operated by experienced and professional technicians. STATS understand the criticality of system outages, and that operators need to meet production and export commitments in conjunction with managing safety obligations, reducing outage costs and complying with environmental requirements.
Learn how to enhance safety while performing hot-work activities by installing verified atmospheric barriers to protect the worksite from potentially flammable or toxic vapours. Test Tools are quick and easy to install and can also be used to confirm the integrity of the new weld or tie-in by providing a localised hydrostatic or pneumatic strength test. Safe and efficient these tools use only a minimal volume of test medium, this negates the need to flood and pressurise the entire system, particularly beneficial in 'mature' systems by decreasing the potential for leakage.
Discover the safety benefits of DNV GL Type Approved mechanical pipe connectors to replace the need for welding, significantly reducing the risks associated with hot-work. Quick to install, this permanent solution significantly reduces shutdown costs and duration by eliminating the need for welding and associated personnel and equipment.
STATS onsite machining services include pipe cutting and weld prep application, trepanning, flange re-facing and controlled bolting to complement our extensive range of time-saving Process Plant Solutions. This single source supply minimises lines of communication and limits personnel and accommodation requirements, reducing expenditure and downtime.
Key Learning Objectives
Verified atmospheric barriers to enhance worksite safety during hot-work activities
How Localised hydrostatic / pneumatic testing improves safety and efficiency by limiting test medium volume
Benefits of permanent Mechanical Connectors in providing cost-effective piping repair, tie-in or capping of pipe work
How to reduce shutdown costs and timescales with Mechanical Connector installation
Presenter: Aiden Hardy