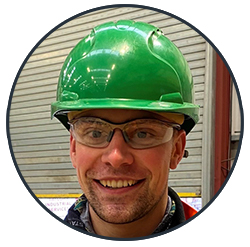 Glenn Murison
Remote Systems Apprentice, Kintore, UK
Apprenticeship Discipline: Assembly and Testing Mechanical Engineering
Why did you choose to do a Modern Apprenticeship?
Last year I was offered an opportunity to play football in Australia with all expenses paid. This was just before COVID struck. It meant I was delaying finishing my apprenticeship until I was back from Australia. Due to the economic uncertainty due to COVID redundancies took place at the company I was employed with (Safelift). The department I was part of was being disbanded and there would be no job for me to return home to. Obviously was disappointing but did not let it affect my time away although it was an issue for when I arrived home as the shortage of job opportunities in the difficult climate.
Thankfully, a job opening at STATS occurred, looking for a remotes apprentice. I was delighted to be told after my interview I was the successful candidate. This meant I can serve my time by completing my level 3 but also be part of a reputable company. Since starting I have thoroughly enjoyed working here and look forward to continuing my career.
What have you learned throughout your apprenticeship?
I have had the chance to attend college and earn a HNC in mechanical engineering. Having learned the theory side of job it is also beneficial being able to put the knowledge into practice. I have learned endless things throughout my apprenticeship.
Having been an apprentice in a different discipline within the oil and gas sector everything was new to me when joining STATS. In the short time I have been here I have been exposed to multiple aspects of the job and learning new skills throughout with help from a good team in the remotes department. I've always enjoyed challenging myself and progressing whatever I do in life and feel that being part of STATS has been a very positive step in my progression. I will continue to work to progress my career furthermore.
What advice would you give anyone considering starting an apprenticeship?
Learn as much as you possibly can. No question is a silly question if its to help with understanding. Look to progress yourself as much as you can and take any opportunity that allows you to do so. Most importantly enjoy what you are doing.