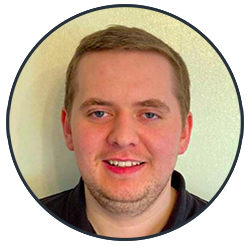 Mark Forsyth
Trainee Workshop Technician, Kintore, UK
Apprenticeship Discipline: Assembly and Testing Mechanical Engineering
Why did you choose to do a Modern Apprenticeship?
I chose an apprenticeship when I left school because I saw it as a great way to gain qualifications while earning money at the same time. The hands-on training gave me a great chance to develop my skills and knowledge on a day-to-day basis and there are never two days that I am doing the same thing. I am always learning something new and being on day release to college meant I was spending most of my time at work rather than being at home/university studying.
What have you learned throughout your apprenticeship?
Throughout my apprenticeship I have learnt a lot of life skills and built a good understanding of various pieces of equipment. As STATS are a bespoke tooling company, I had never seen equipment like it prior to starting with them, and over the last 3 years I have learnt the different processes, from the raw material coming into the machine shop, right through to the tool being sent out to a live work scope. Another important element of my apprenticeship has been gaining essential life skills, such as good communication, good time keeping, decision making as well as problem solving.
What did you enjoy most about your Modern Apprenticeship?
My Apprenticeship with STATS has been great since the first day, I work with a great bunch of colleagues daily and they are always up for a laugh! I have enjoyed learning from them and picking up their knowledge! Being able to do my NC and HNC with NESCOL in Fraserburgh was also great as it gave me a chance to mingle with other apprentices from other companies as well as gaining valuable skills and knowledge from the lecturers!
What further progression have you achieved since completing your Apprenticeship?
As I come closer to the end of my apprenticeship, I have started being given more responsibilities as well as bigger tasks/jobs to manage and complete by myself! Some of these can be difficult and problematic but I enjoy a challenge, so it does not really bother me! In the future with STATS, I hope to start going offshore more and get to see some of the world which I think would be a great opportunity to get!
What advice would you give anyone considering starting an apprenticeship?
GO FOR IT! At school, an apprenticeship is something that I don't think was pushed enough to people looking to leave but I would say if you got the chance to take it! It has been a great way to gain skills and knowledge and I would say it has made me grow up and take responsibility for my actions a lot quicker than other people my age! Another thing is get ready for the early mornings, and the usual banter associated with being the apprentice!