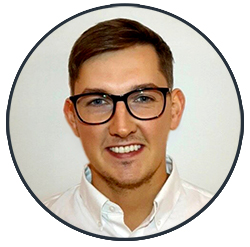 Ryan McIntosh
Lead Project Engineer, Abu Dhabi, UAE
Apprenticeship Discipline: Mechanical Engineering Apprenticeship
Why did you choose to do a Modern Apprenticeship?
When leaving school, I was keen to try get into the oil and gas industry. During my interview with STATS back in 2009 they explained that while learning the technology in the workshop I would also be sent to college to complete my modern apprenticeship. Where I would gain skills to help me progress in understanding the world of engineering.
What have you learned throughout your apprenticeship?
The apprenticeship scheme is the perfect fit for any young girl or guy who enjoys getting out there and seeing how things work first-hand. The broad knowledge I was able to gain was invaluable not only for the oil and gas sector but all engineering. This ranged from mechanical fitting and machine skills to also classroom-based learning in CAD drawings and engineering calculations, which are all vital.



What did you enjoy most about your Modern Apprenticeship?
At the time, I enjoyed learning the skills and becoming more competent in tasks which I could take back to STATS and implement. Looking back, I did not realise how useful the Apprenticeship training actually was and how those skills stick with you helping throughout your career.
Leaving school, I did not think I could have went straight to university, but with the backing and build-up of the apprenticeship learning starting from college it made tackling university much easier.
What further progression have you achieved since completing your Apprenticeship?
After completing my apprenticeship along with my Mechanical Engineering HNC & HND, I decided to continue my learning to aid my career progression. I moved from a workshop technician position into an office-based Project/Design Engineering role while completing my Bachelors (BEng) for Mechanical and Offshore Engineering at Robert Gordons University in evenings.
After a short break and with continued support from STATS I was keen to progress further and enrolled in a course for Master of Science (MSc) in Project Management, part time again with distance learning due to relocating with STATS to Abu Dhabi in the Middle East. Where the course will be completed this May 2021.
What advice would you give anyone considering starting an apprenticeship?
Being biased I would encourage anyone to go via the apprenticeship route for learning, the skills you learn being hands on whilst studying set a fantastic base for the rest of your career. They can give a large advantage in comparison to those only from the university route who haven't had the same mechanical and operational awareness gained working from a young age.