QHSE
As a provider of products and services to the global energy industry, the early reputation of STATS was built on innovation, value and fast response. These qualities remain key features of the company philosophy and are applied in conjunction with an Integrated Management System to meet the expectations of a modern competitive business environment.
Membership of the First Point Assessment initiative and being First Point Verified enables participating clients to confirm HSE, technical capabilities and prior performance while simplifying the procurement process.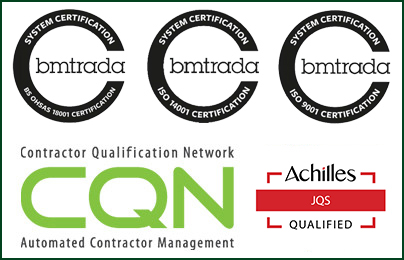 Quality, health, safety and environmental (QHSE) issues are of primary importance to the management of STATS Group. STATS Groups commitment to Quality, Health, Safety and Environment is underlined by the continual development of our accredited systems: ISO 9001:2015, ISO 14001:2015 and ISO 45001:2008. STATS Group ensure all employees are charged with promoting and sustaining a culture in which QHSE is integral to everything we do.
Download Certificate of Registration
For further information contact
QHSE Director: Derek Smart
E: derek.smart@statsgroup.com
T: +44 (0) 1224 772461
Life-Saving Rules
STATS Group has adopted the International Association of Oil & Gas Producers (IOGP) Life-Saving Rules. This simplified set of Life-Saving Rules was created to provide workers in the industry with the actions they can take to protect themselves and their colleagues from fatalities. IOGP's vision of success is for the whole industry to adopt IOGP's Life-Saving Rules.
IOGP's Life-Saving Rules:
Enables better transfer of knowledge, experience and lessons learned
Increases individual awareness ownership of critical safeguards that prevent fatalities
Is a step towards an industry-wide common safety language
Allows for ease of implementation and consistent use by contractors and operators
The Life-Saving Rules aim to help with industry standardisation and learning to eliminate fatalities within the workplace.
Corporate Policy Statement
STATS Group aim to not only satisfy, but exceed our clients' expectations by providing a quality service in a manner that prevents harm to people and the environment.
To consistently meet the commitments stated in our policy, STATS Group has established a defined organisational structure which supports a framework of performance standards and documented processes relating to the company's management of Quality, Health, Safety and Environmental (QHSE) issues.