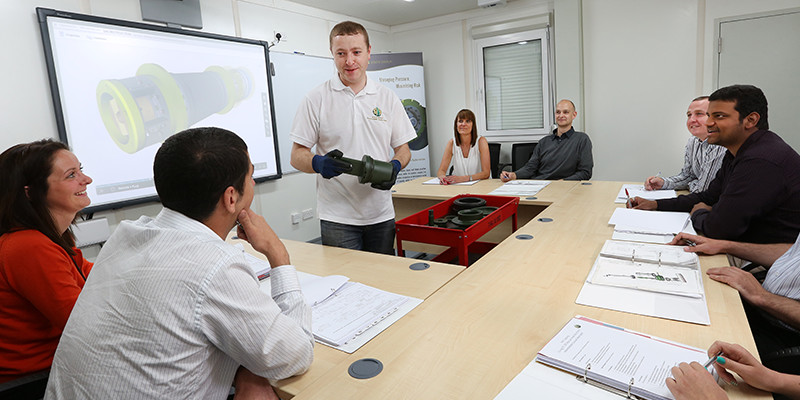 STATS Group understand that people are our biggest asset. Our robust approach to competency management will develop the right skills to excel in the business. We recognise all individuals learn in different ways, which is why our approach to training and development blends online, hands-on and classroom based learning. Our ECITB accredited training programmes address industry related as well as company specific training.
Global Training Centre
STATS Group has invested £500,000 in establishing a global training centre at our UK headquarters in Kintore. The facility includes a full suite of our products, dedicated testing areas, bespoke training materials and a custom-built classroom.
The centre is principally used to meet training and assessment needs for our field and workshop technicians and design and project engineers, although all administration and support staff regularly complete product familiarisation courses. New-start training and refresher courses for experienced staff working across global operations is also provided at the centre.
As a fast-growing specialist engineering business, our reputation and future development is dependent on being able to deliver complex projects safely, without incident and on budget. The rate of growth experienced by STATS Group requires an in-house training facility that can maintain and improve quality and competency standards.
ECITB Members
STATS have unlimited access to ECITB accredited courses. ECITB provide us with ongoing career development for supervisors and technical staff.
Professional Memberships
STATS are committed to sponsoring employees through all professional memberships, relevant to their role. STATS are accredited members of IMechE, operating a Monitored Professional Development Scheme (MPDS) which will help you gain professional registration. Once completed you will receive accreditation that's internationally recognised – and you'll receive support and opportunities for training and development throughout your career at STATS Group.
Modern Apprenticeships
STATS warmly welcome individuals who wish to join the company for the apprenticeship programmes. We have a proven track record of successful completion of Engineering Practice, Mechanical Manufacture Engineering and Machining Modern Apprenticeships.
Graduate Development Scheme (GDS)
What is the Graduate Development Scheme?
STATS Group offers a two-year recognised training and development programme for graduates and developing engineers. The Graduate Development Scheme (GDS) is a work-based training programme that allows recent graduates to gain practical experience across a range of disciplines.
The scheme attracts the highest quality graduates and develops skill sets by giving exposure and experience of functional departments across STATS. The scheme will allow individuals to contribute to their own development while STATS supports graduates and engineers on the road to Chartership status (EngTech, IEng or CEng).
What kind of exposure and rotation plan will be in place?
Graduates will enrol in a rotation plan. This is aimed at giving Graduates exposure to various departments across the whole of STATS in order to maximise their learning potential.
Each graduate will spend time in the following departments:
Commercial
Design Engineering
Finance
Projects
Operations
Supply Chain
During the rotation training opportunities in line with respective learning objectives will be provided, along with competence assessments.
Scheme Requirements and Mentors
The successful candidate should hold a BSc / BEng (Hons) and / or MSc in Mechanically biased subjects and be registered by IMechE to be on the scheme.
Graduates will be assigned a CEng certified mentor to help coach and guide them through the scheme. Monthly meetings with your mentor will be organised to review and improve various quarterly / annual reports submitted as evidence to the Monitored Professional Development Scheme (MPDS).
Learning Objectives
Learning objectives have been defined for each of the various rotation opportunities across the business. The rotational departmental manager will assess the individual against the learning objectives and determine any gaps against the scale, which is inline with both UK-SPEC and IMechE requirements.
Scheme Completion
Following completion of the two year Graduate Development Scheme, the Graduate will meet with their mentor and will have the opportunity to be placed within their preferred department.