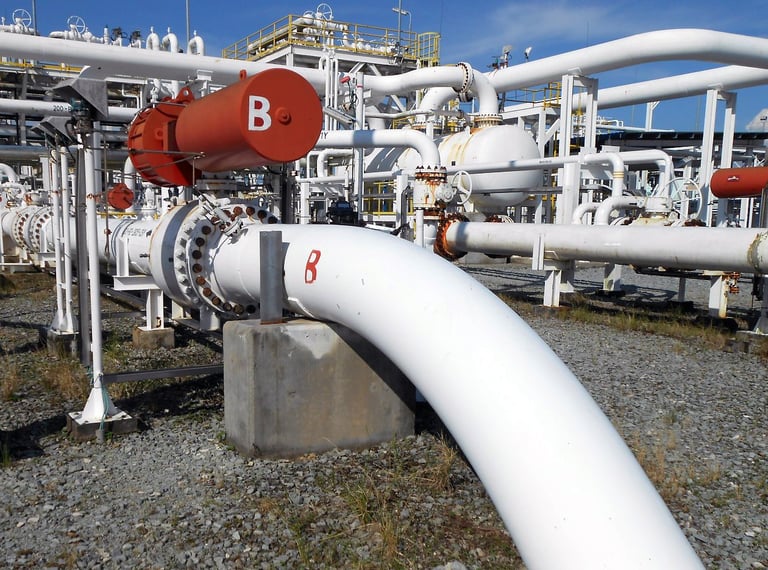 STATS Group has successfully carried out a double block isolation of two 24" gas pipelines at an Onshore Receiving Facility in the Malaysian state of Sarawak.
STATS used a single DNV GL type approved Remote Tecno Plug® to provide a fully monitored leak-tight isolation of both pipelines. Each isolation was conducted consecutively to allow the shutdown valves to be replaced which eliminated the requirement to fully depressurise the entire pipeline and substantially minimise the out of service time.
In advance of the workscopes, STATS conducted a site survey of each pipeline to gather critical information and complete a noise survey to confirm there would be no interference with the plug communication system. The site survey information allowed STATS to produce a detailed engineering and piggability assessment. This confirmed the specification of the Remote Tecno Plug and identified a suitable isolation location.
STATS also conducted a full Factory Acceptance Test (FAT) at their headquarters in Aberdeenshire, in a purpose-built test-fixture with all testing witnessed by client representatives.
Once the Remote Tecno Plug arrived on site it was loaded into the pipeline launcher. The isolation plug was then pigged with nitrogen through the pressurised pipeline and tracked a distance of 35 metres to the desired set location. Communication with the Tecno Plug was achieved using an extremely low frequency (ELF) inductive system for reliable tracking and accurate positioning.
At location, the Tecno Plug was hydraulically set to activate the locks and dual seals. During isolation barrier proving, each seal is tested independently with full pipeline pressure in the direction of the expected pressure differential, proving both seals of the double block isolation are leak-tight. This allows the pipeline to be bled down to ambient from the launcher to the rear of the Tecno Plug. The annulus between the Tecno Plug seals is then vented to ambient to create a zero-energy zone. This was then subject to a 12 hour isolation stability hold period before the 'Isolation Certificate' was issued.
With the isolation in place and the double block and bleed isolation verified the shutdown valve was safely replaced. Throughout the workscope the Tecno Plug was constantly monitored and remained stable for the full 3 day isolation period. With the workscope successfully completed a leak-test of the new flange joints was conducted against the rear of the Tecno Plug before the pipeline pressure was equalised and the Remote Tecno Plug was unset and pigged back to the launcher. The isolation plug was then recovered from the launcher, inspected and refurbished onsite before being installed into the second pipeline. The same methodology was then followed to allow the second shutdown valve to be successfully replaced and leak tested. The Remote Tecno Plug isolated the pipeline for 3 days before it was pigged back to the launcher for demobilisation.