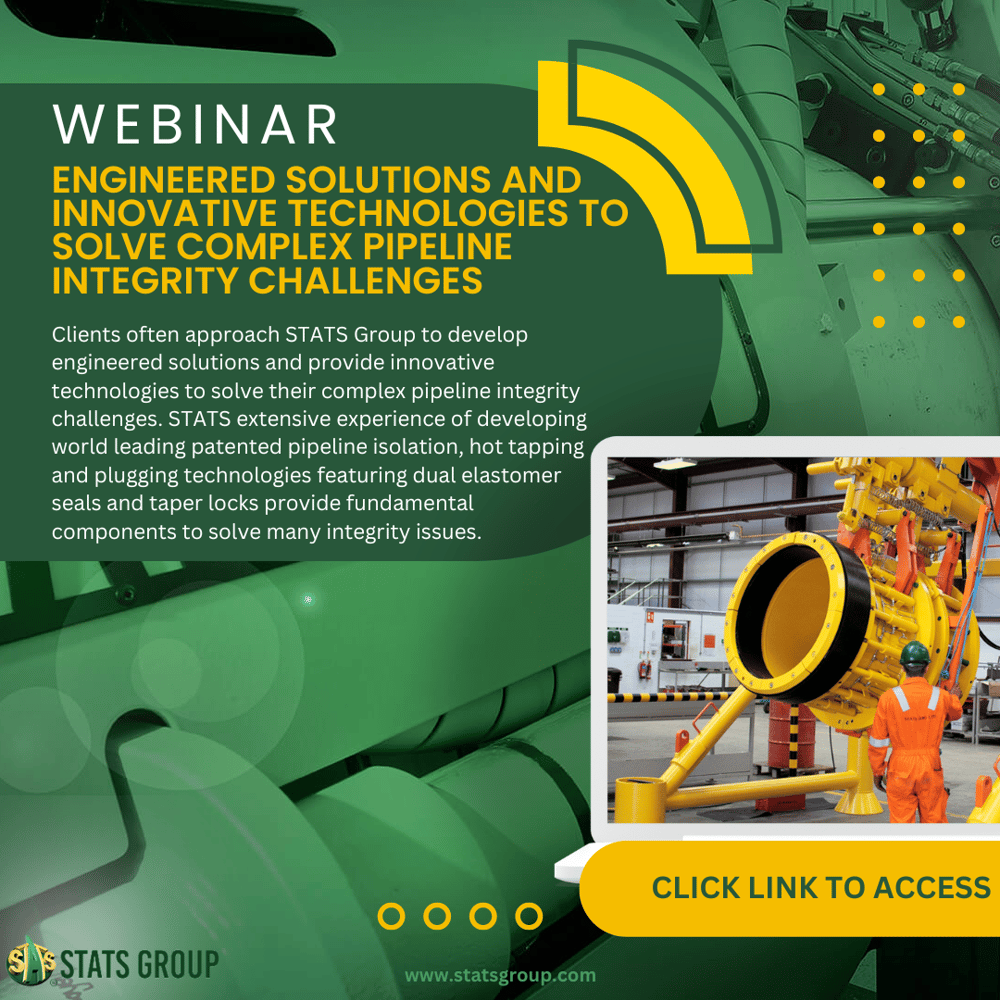 Abstract
Clients often approach STATS Group to develop engineered solutions and provide innovative technologies to solve their complex pipeline integrity challenges. STATS extensive experience of developing world leading patented pipeline isolation, hot tapping and plugging technologies featuring dual elastomer seals and taper locks provide fundamental components to solve many integrity issues.
STATS extensive history of providing process and pipeline repair and mechanical connection technology has allowed the company to develop innovative solutions to safely and efficiently solve complex process and pipeline issues. Many client problems require the use of a combination of STATS products that are engineered and adapted to overcome and address specific project issues.
This webinar will discuss real world examples and case studies where STATS engineered solutions solved some of our client's biggest challenges, often when alternative solutions did not exist.
Examples include:
Removal of a two-tonne pig launch tray from a 48" high pressure gas transmission pipeline. STATS engineered solution allowed the tray to be safely retrieved 600 meters while the pipeline remained at full pressure and under production flow.
Bespoke engineering interfaces to allow a new 36" gas pipeline to be pulled-in through the existing entry point in the platform gravity base structure, 180 meters below sea level, whilst still providing full isolation between the inside of the platform leg and the seawater pressure outside.
The first onshore Pipe in Pipe (PiP) isolation to facilitate the extraction and replacement of a damaged section of pipe. Focusing on the technical challenges encountered and solutions developed for addressing the pre-strained forces incumbent in the PiP design.
Leak-tight pipeline isolation services on a range of pipelines from 3" to 54" as part of a larger restoration project at a major refinery in the Middle East. This scope presented many challenges that would push the limits of STATS current isolation technology and require further research and development to provide an engineered solution capable of isolating each pipeline including high temperature steam lines.
Hot tap installed double block and bleed isolation of high pressure 30" liquid CO2 pipelines operating at 148 bar. This allowed the safe retrofitting of launch and receive stations along the pipeline while production continued uninterrupted through a temporary bypass.
Speaker: Dale Millward & Aiden Hardy