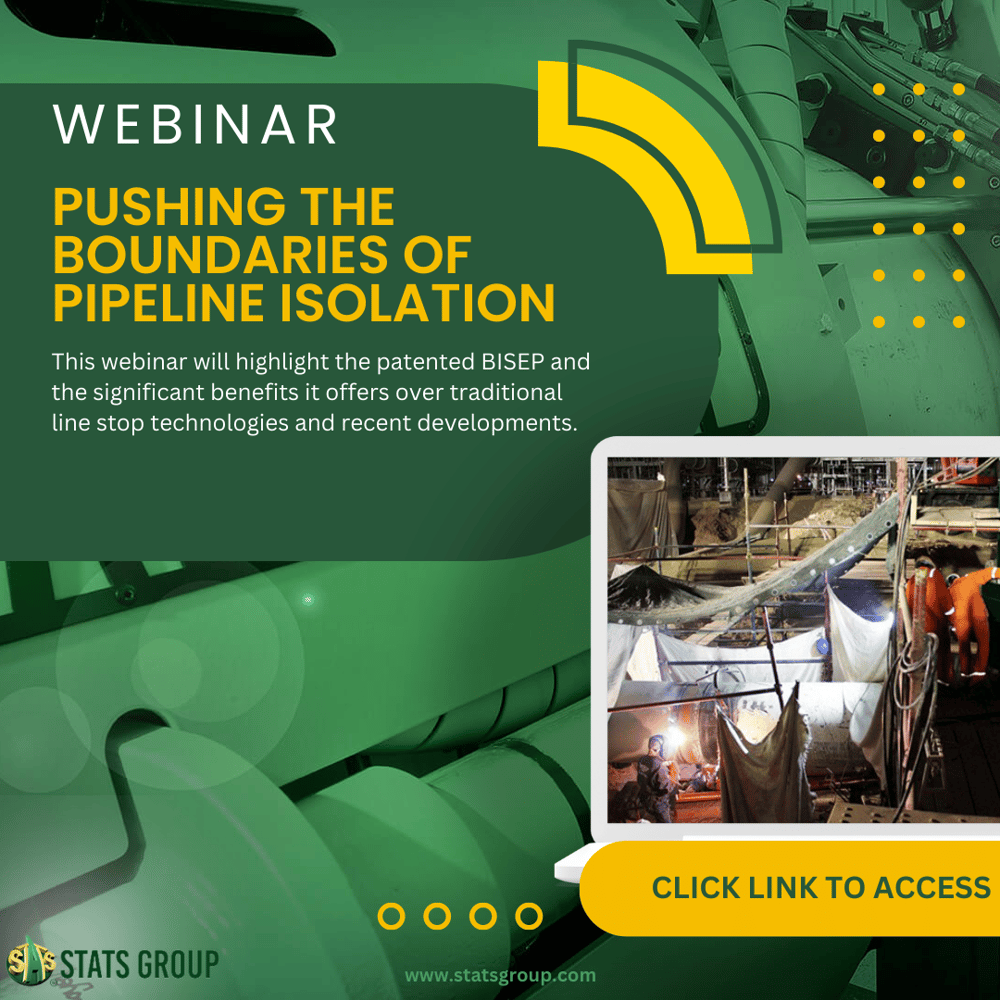 Abstract
Pipeline isolation is a key requirement for the safe and efficient maintenance, modification and repair of oil, gas and petrochemical infrastructure. Pipeline owners and operators are often faced with pipeline integrity challenges that require a new approach and innovative technology to ensure maintenance activities are completed to the highest level of safety, on time and within budget.
As the industry strives to increase safety and environmental performance as it transitions to a low carbon future the need to embrace technology is more important than ever. Continuing to use traditional methods that don't meet the highest level of safety for temporary pipeline isolation can no longer continue. Technology exists that is independently type approved to verify that the design criteria satisfy the requirements for Pipeline Isolation Plugs to provide dual seal and isolation. STATS has extensive global track record of providing inline isolation, hot tapping and plugging services from 3" to 54" on piggable and unpiggable pipelines.
This webinar will highlight the patented BISEP and the significant benefits it offers over traditional line stop technologies and recent developments. Hydraulically activated dual elastomer seals provide leak-tight isolation of live, pressurised pipelines. Hydraulic deployment and operation allows the plugging head to be deployed in inclined or sloping pipelines or from underneath the pipeline making deployment possible in challenging environments or where space is limited.
High integrity isolation methods will be discussed that enable piggable pipeline systems to be safely isolated to double block and bleed / monitor isolation requirements on both onshore and offshore pipelines. Unlike traditional line stopping activities, piggable isolation tools require no welding or cutting into live lines, leaving no residual fittings or hardware on the pipeline. Recent developments will be highlighted that include the use of satellite communication to securely monitor isolation tools from an onshore location throughout the entire isolation period, while reducing the need for personnel to remain in attendance on site. Further developments include the addition of leak-test capabilities to carry out reinstatement leak testing of new valves or pipe spools while the isolation remains in place. This session will also explain how the piggable tool is tracked, positioned and monitored while in the pipeline, before discussing the hydraulic activation of the locks and seals, including seal testing and verification.
Remotely operated and tethered isolation plugs will be presented highlighting the benefits of each deployment method to enable maintenance work on pressurised systems to be carried out safely and efficiently, without bleeding down the entire pipeline.
Real world examples will be presented that highlight the safety and commercial advantages of using STATS isolation technology and the key benefits over alternative solutions to allow challenging pipeline integrity issues to be solved.
Speaker: Andy Norrie