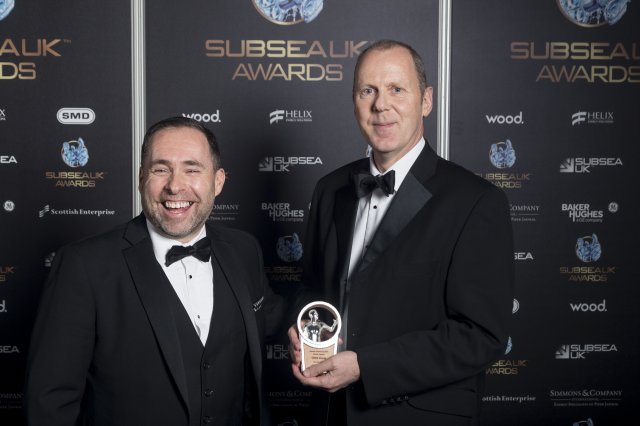 Feb 2018
STATS Group has been awarded a prestigious award in recognition of its success in the global subsea market.
Industry body Subsea UK presented STATS chief executive officer Leigh Howarth with the Global Exports Award at its annual awards ceremony in Aberdeen.
STATS is a leading provider of pipeline testing, repair and integrity services, including the design, supply and provision of specialised test, intervention and isolation tools, to the international oil and gas industry.
The judging panel heard how STATS had executed an internationalisations strategy which required entry in to mature and established markets by providing clients with innovative technologies and high integrity solutions which offered key safety and financial benefits.
STATS had recognised the potential and scale of the subsea hot tapping and isolation market and in the last two years had invested and developed equipment suitable to those sectors. During this time STATS has completed four major international subsea pipeline repair projects, in the South China Sea (28" pipeline), East China Sea (14" pipeline), Gulf of Thailand (8" pipeline) and Gulf of Mexico (10" pipeline).
With increasingly short lead times and price competition, STATS had adopted a more regional-based dynamic which involved investment in office and workshop facilities in Abu Dhabi, Edmonton, Qatar, Houston and most recently Malaysia, to support global operations.
This strategy allowed key equipment to be located in the regions, allowing assets to be stored and maintained and then shipped to the end user from the closest regional hub, which reduced shipping and handling costs and allowed for a more responsive service.
Leigh Howarth said: "The group's revenue split from the period of 2014-2016 demonstrates the impact of our internationalisation strategy with a trend showing an increase in revenue weighting from the Rest of World (ROW) to the UK.
"Winning the Global Export Award is a great accolade for STATS Group and acknowledges the efforts of our staff across the world in establishing our technologies and increasing our international competitiveness. It represents clear recognition of the significant progress achieved by STATS in becoming a key supplier of subsea hot tapping and isolation services to the international oil and gas industry."
STATS Group, which has just celebrated 20 years in business and employs 210 staff in the UK, Canada, USA, the Middle East and Malaysia, is also shortlisted in the Export Achievement Award category in next month's Offshore Achievement Awards.