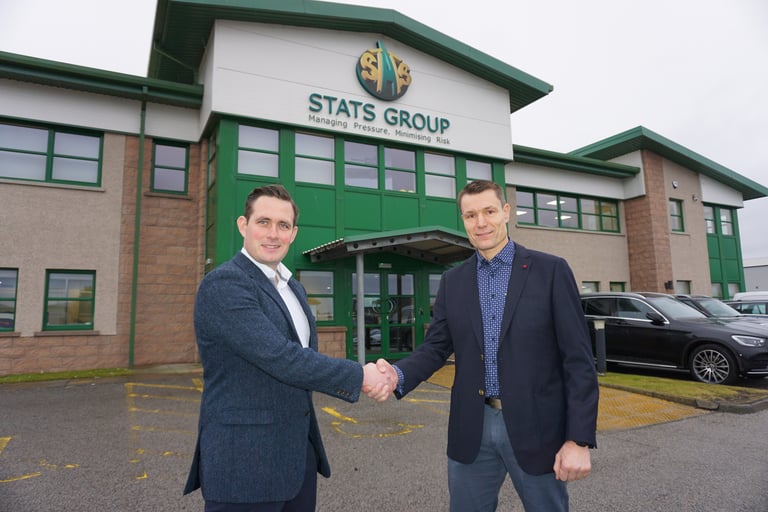 STATS Group is targeting growth in the Scandinavian energy sector with a new distributor arrangement with a leading equipment and services supplier.
STATS has strengthened ties with Stavanger's Asset Integrity AS (Asset Integrity) in a partnership to supply a range of Process Plant Solutions to clients in Norway and Sweden.
STATS tools are well established in Scandinavia and forming a distributorship comes on the back of increased demand for services including hydrostatic weld testing tools, weldless connectors, pipe cutting equipment, pin-hole leak clamps and ambient barrier tools.
Asset Integrity is widely respected by Norwegian Operators and Tier One contractors engaged in maintenance shutdowns and turnarounds and has a growing reputation in localised hydrostatic testing, system and spool testing and the provision of cold-work mechanical connectors for pipework and pipelines in the oil and gas industry.
STATS Group's Aiden Hardy, Regional Business Development Manager, said: "We've benefited from a close working relationship with Asset Integrity over a number of years and this formal agreement is a natural step for both companies to maximise opportunities in the Scandinavian energy sector.
"Asset Integrity's ethos is to provide a first class responsive service which improves safety and efficiency and reduces maintenance downtime, which mirrors our own operational model, and we will work hand in hand to ensure clients in Norway and Sweden have access to best-in-class services and equipment."
Jan Tore Fjelland, Asset Integrity's Managing Director, said: "We are very pleased to formalise and further strengthen our business relationship with STATS Group. The last couple of years we have seen a growing interest from our customers to utilise STATS cold work mechanical connectors, plugs and hydrostatic test equipment.
"STATS is renowned for its world leading technology and quality which fits perfectly with our strategy. We are looking forward to growing our business in Norway and Sweden in the coming years in close collaboration with STATS Group."